2.

Introduction to the RAD-A2B

Thank you for purchasing Intrepid Control Systems' RAD-A2B. You will find this a valuable tool in using A2B technology.

The RAD-A2B is a state-of-the-art A2B (Automotive Audio Bus®) testing tool. A2B technology allows a two-Wire interface to transmit audio and control data using a multi-source audio system. This technology enables low cost transmission of audio, active noise cancellation and in-vehicle voice recognition from any part of the vehicle.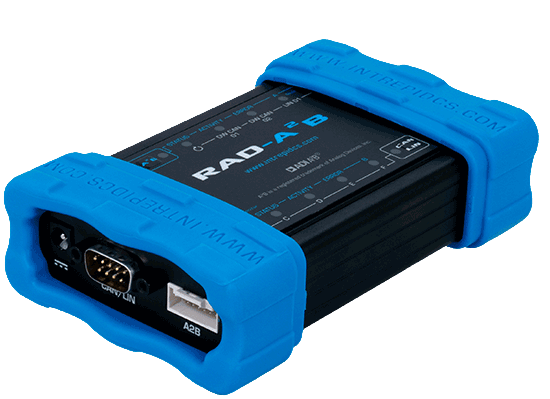 2.1.

Package Contents

Upon receipt, please remove, unwrap and inspect all its contents. If anything is missing or damaged, please contact Intrepid for prompt assistance. Contact information can be found at the end of this guide.

General Device Specifications:
1 Year Limited Warranty
Temperature ranges from -40°C to +85°C
Dimensions: 5.41" × 3.43" × 1.43" (13.7 × 8.72 × 3.62 cm)
Weight: 0.65 lb (295 g)
Low power consumption
2.1.1.

Hardware

Your package includes the following:
The RAD-A2B device: RAD-A2B Active Tap, Gateway, and Media Converter for A2B Networks
CAT6-2: 4-pair ethernet cable with RJ45 connectors
IGRID-16-KIT: Cable and housing receptacle for A2B communication. iGrid Plug and Pin Kit, 16-position
USB-CABLE: USB 2.0 cable for interfacing with your RAD-A2B
NEOVI-PS - Does not come with KIT can be purchased as an add-on
2.1.2.

Software

Unless physical media was specifically requested, your box contains a reference card with instructions on where to download the device drivers and any other purchased software. If your media or reference card cannot be located, please contact Customer Support.
2.2.

Operational Overview

A RAD-A2B can be used in many different ways. Additionally, future Vehicle Spy updates will support Main and Sub Node emulation on an A2B network.
2.2.1.

Monitor Mode

The RAD-A2B can be used as a Monitor-Only device. It can tap-in to the network without acting as a node. Monitor Mode makes a copy of the A2B traffic and processes it with low latency. Additionally, the RAD-A2B can monitor traffic on two DW CAN / CAN FD channels and a LIN channel at the same time as the A2B traffic.
2.2.2.

Standalone Mode

The RAD-A2B comes built in with CoreMini that can run scripts and playback traffic from within the RAD-A2B. Your RAD-A2B does not need to be connected to Vehicle Spy to run in standalone mode; however, Scripts must be loaded to the CoreMini using Vehicle Spy, or in future versions of Vehicle Spy, through Intrepid's API.

The RAD-A2B's storage uses EEPROM rather than an SD Card. EEPROM is a type of Read Only Memory (ROM) that can only be modified by a computer connected to the RAD-A2B. The RAD-A2B cannot change what is stored on its memory. Therefore, the RAD-A2B does not support Standalone logging. Instead, the RAD-A2B supports the use of adding, running, erasing, and reprogramming of a Script. A Script is loaded onto the RAD-A2B through Vehicle Spy; however, the device does not need to be connected to Vehicle Spy 3 to run the Script.
2.2.3.

Emulator Mode (Supported in Future Vehicle Spy Versions)

The RAD-A2B can be used to emulate a Main or Sub Node on an A2B network. In this mode, the RAD-A2B can transmit and receive data over the A2B network it is connected to. Additionally, the RAD-A2B already supports emulation of Master or Slave Nodes on one LIN channel and can transmit and receive traffic on two DW CAN / CAN FD channels.
2.3.

Hardware Requirements
2.3.1.

Device Power

Your device can be powered through the DC barrel jack or through the DB9 connector. The RAD-A2B is also Phantom Power capable 1.5W (300 mA / 5V).

DC Supply (not included can be purchased separately)

The RAD-A2B can be powered using a DC power supply . The device is rated for a power supply between 6-40V at 12 Watts (i.e. a 12V at 1A supply or 24V at 0.5A supply).

DB9 Connector

The RAD-A2B can be powered through power received on the VBATT channel of the DB9 port (see power consumption in previous section).
2.3.2.

Computer Interface

Connection to a computer is needed both for configuration of the tool as well as communication with the device. If you intend to use Vehicle Spy or Intrepid's API in future versions of Vehicle Spy, you can connect to the RAD-A2B using the USB 2.0 port or the Ethernet port.